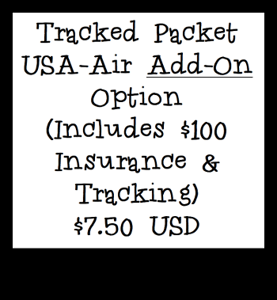 $

7.50
This option will be ADDED on to the "BASIC" flat rate shipping cost.
THIS OPTION IS FOR USA CUSTOMERS ONLY. If you live in Canada, or are International, you don't need this.
Unfortunately, Canada Post is no longer offering SURFACE shipping for small packets to the USA.
AIR is the only option, but there are two levels.
PLEASE NOTE: BASIC "AIR" DOES NOT INCLUDE INSURANCE ANYMORE ON YOUR PACKAGE. Prihtee Paintz's regular flat rate shipping is for the BASIC option only.
IF YOU DECIDE NOT TO CHOSE THIS ADD-ON (which is $100 insurance and tracking) PRIHTEE PAINTZ WILL NOT REIMBURSE YOU FOR ANY LOST, STOLEN, OR DAMAGED PACKAGES THAT MAY OCCUR.
Thank you for your patience and understanding. :D