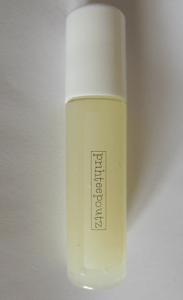 $

5.00
This ULTRA-shiny, smooth, non-sticky, sexy lip GLOSS provides a protective layer with a formula that includes Vitamin E. It's a step more saucy than our lip balms!
It's All-Natural formula rolls easily onto your lips for a soft, sexy pouty mouth! A little goes a long way! Just try not to lick your lips too much ;)
"prihtee poutz lip gloss" comes in 12 yummy flavours: Vanilla, Chocolate, Peppermint, Bubblegum, Cherry, Pina Colada, Wildberry, Strawberry, Creamsicle, Raspberry, and Chocolate-Mint. OR - create your own blend! ***NEW*** Chai-Vanilla
PLEASE ADD IN THE PAYPAL NOTES WHICH FLAVOUR YOU'D LIKE
Each gloss is 13 ml oz and comes in an "old school" roller-ball tube.
All glosses are freshly made when ordered.
*Please note, these lip balms contain: almond oil, coconut oil, castor oil, beeswax, & Vitamin E; and while all-natural, they are not Vegan.